DIY Dry Erase Picture Frame
This is a great project for gifting.
Especially, for the person who has everything.
It can be customized to fit the decor of any room.
Items Needed:
Picture Frame
Fabric
Scissors
Spray Glue
Marker
Dry Erase Marker
Disassemble the picture frame.
Use the marker to trace around the glass on the fabric.
Cut out fabric with scissors to fit over the cardboard insert of the picture frame.
Apply spray glue to fabric and cardboard, press together firmly.
Smooth all wrinkles and air bubbles out.
Let dry completely.
Re-assemble the picture frame and use a dry erase marker to write on the glass.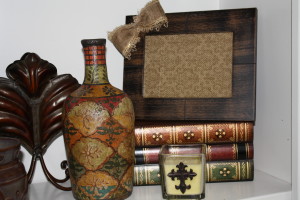 This post contains an affiliate link. That means when you take advantage of this offer I get paid.