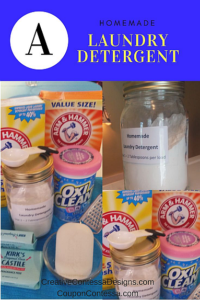 How to make Natural Homemade Laundry Detergent
This helps eliminate bringing dangerous chemicals and additives into your home.
My original recipe for laundry detergent contained Borax.  Although it is a naturally occurring mineral, it is also toxic and very controversial.
I set out to find a better alternative and it payed off in a big way.
Not only do I save money by making homemade laundry detergent, I am happy with all the products I am using are safe for my entire family.
I used the database from the Environmental Working Group Healthy Cleaning scale.
This is the NEW Homemade Natural Laundry Detergent
Super Washing Soda – 1 box
Baking Soda – 1 large box
Oxi Clean Baby – 1 container
Castile Bar Soap Fragrance Free – 3 or 4 bars (grated very small or us food processor)
Combine all ingredients and mix well.
Use 1 to 2 tablespoons in each load
Cost Under $20
For Over 300 loads of laundry
This post contains an affiliate link. That means when you print a coupon I get a small fee.